WIN AT PR LIKE BEYONCE WON THE SUPERBOWL
We don't even want to talk about the results of Super Bowl 50 (you're right Luke,it does sting). Instead, we will focus on the one bright shining light of halftime: Beyonce.
As big of Bey fans as some of us are, we can't help but notice that the Queen's PR and social media presence surrounding, during and now after the game are part of an expertly-crafted public relations strategy to further her music empire, or as she says, become the "Black Bill Gates." Here are the steps we try to take in order to get as close to Beyonce worthy PR as possible. 
 
1.  AUTHENTICALLY REPRESENT YOUR AUDIENCE 

Beyonce has been a role model for young African American women for well over fifteen years. However, with the expansion in America's race discussions, as well as the explosive representation of  African American and female voices in media, the scope of her role has changed.
Beyonce's newest song, Formation, is a celebration of African American femininity and her native Southern culture. Releasing this video the night before the Super Bowl engaged Beyonce's core audience of African American women, so that they were more likely to watch her later performance.
 
2. FOLLOW A PATTERN
The release of Formation also followed Beyonce's pattern of announcing large-scale events, like the Beyonce video album or Formation tour, with a teaser of other content, so fans began to speculate that something major would happen at the Super Bowl. Then, the Bey Hive's (Beyonce's fans, if you're living under a rock) wheels of creativity, began turning. However Sasha Fierce took this in stride. 

3. GIVE YOUR FANS THE TOOLS TO TELL YOUR STORY- BUT DON'T LIMIT THE CONVERSATION. 
On Sunday morning, my phone was blowing up with Beyonce themed memes, stills from the Formation video, think pieces and more. The video is visually intoxicating, with fantastic fashion and inimitable dance moves. Beyonce also featured a fan favorite, her daughter Blue Ivy, which made it even more shareable. Beyonce is known for virtual media silence. 
Beyonce has learned since her last super bowl appearance to control the conversation by providing content. When an email from her publicist leaked in 2013, it gave us a glimpse into the Beyonce-Image sausage factory (we know, that phrase is gross). Fans were disappointed that Beyonce was so concerned with the unflattering  and her PR team had to rework the scope of their image control. She posts enigmatic Instagram photos, drops amazing singles, or gives doesn't try to control the conversation- she provides great content and allows her fans to react to it and express themselves with it.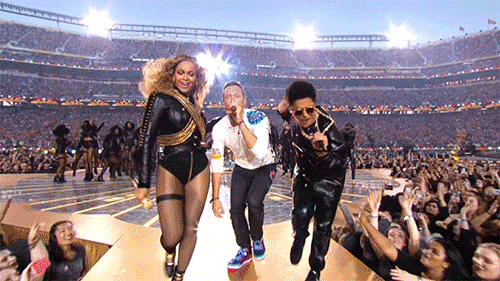 When the half-time show began, this paid off. Beyonce was mentioned 147,000 times a minute on Twitter during the performance, as compared to Coldplay's 83,000 and Bruno Mars' 28,000. That's UGC she'll be taking to the bank.

4. MAKE THE PARTY COME TO YOU

You can tell that Beyonce's content marketing calendar, which is probably written on angel wing feathers and dipped in gold, has had the Super Bowl written in it for many years. She rocks the super bowl, but she also used the highest-viewed TV event of the year to announce her tour- garnering even more awareness than she would during the Grammys or the Oscars, times when a more engaged fan base would be watching. When you have the opportunity to go big, go big like Beyonce. 
Please reload