I've always been competitive, but the idea of racing has always been 100 million percent unappealing to me. Why pay to stress yourself out with a bunch of spandex-rocking strangers when you could go get after it in the woods with friends on your own schedule?

1 week ago, I randomly decided to commit myself to something very uncharacteristic. I was working with the organizer of the Winter Challenge Off-Road Triathlon Race because our client, Astral, was a potential sponsor. He offered me a free race entry to which I immediately thought, "sounds like a nightmare I've had before," but as I read more about the race, my interest was officially piqued. 7-mile trail run (that's going to suck), 6-mile flat water paddle (that will suck less), 10-mile mountain bike ride (okay, that I like), free keg beer and pig roast at the finish line (count me in). I had never run farther than 6 miles or done a triathlon, but this seemed right up my alley. I wanted the challenge.
I found myself punching in the discount code on the website, and announcing to my coworkers and friends that I had a week to train for this thing. There were some laughs and some "you're crazy," but there were a bunch of "go get it" responses from friends too. I had the mountain biking part on lockdown, but I immediately knew I had to come up with a training plan for the trail run since my last "run" was a jaunt around Bent Creek's lake with several stops to chill and snuggle Kota. If I was going to do this race, I was going all in. After Googling, "How to train for a triathlon in a week," I wasn't loving the answers I saw, so I asked my coworker/Coach Isaac when I should start tapering. I was stoked for the whole tapering part of the training cycle, because I was stoked on that part of the training cycle. With 4 days before my taper started, I packed in all the mountain biking, paddling and running I could with the onslaught of late winter, rainy weather that was overtaking our area. I was feeling like I could probably get through this race.
My excitement for the race started to peak when I realized that I could potentially win a large belt buckle. I didn't know what the hell I would do with it (make a pilgrim hat? a super large earring?), but I knew that I didn't just want to finish the race…I wanted to do well enough to win some hardware. With this in mind, I barely slept the night before the race and even though I did all the yogi breathing I could muster, I was so worked up before the race I almost vomited and blacked out. With my kayak by the lake, mountain bike in place and TR1's laced up, reality was setting in hard. My partner, Alex, had decided to sufferfest with me and reassured me that there was no pressure. "Mmhmm, sure," I agreed, as I finished the banana it had taken me 2 hours to stomach. My nerves were already spiraling out of control. BUT, I managed to pound some Tailwind Nutrition, chill myself out with some Post Malone slow jams and walk my ass over with him to the starting line.
The run ending up being so much more terrible than I had anticipated. Thick mud, sand and grass lined the trails and about 4 miles in, I realized that I had no freaking idea what my pace was. I had been trying to keep up with everyone else and was totally gassed. The phrase "embrace the suck" had never felt so relevant. So, for the next 3 miles I allowed myself to embrace it and I didn't stop running until I essentially fell into my kayak to start the paddle. I felt delirious. However, with the run over and 6 miles of paddling in an epically beautiful swampy lake to get done, my spirits were climbing. I saw women who had passed me on the run, and pushed myself hard until they were out of sight behind me. The miles on the water cruised by. With my feet numb from being in a boat for over an hour, I haggardly stumbled like a zombie over to my mountain bike and threw on my helmet. It was go-time.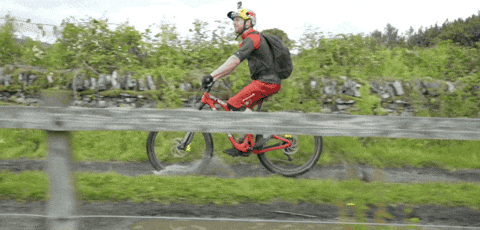 The mountain biking was LEGIT. Super fun single-track with some jumps and technical sections thrown in there. The sun was shining and with this as the last component, I knew I was going to finish this durn triathlon. On the last quarter mile to the finish line, a woman zipped past me and I stayed right on her tail until we both realized we had missed the finish line in our race to beat each other. With everyone shouting at us to turn around, we both hopped off our bikes and ran back around to cross it. 
And BOOM. It was over. More than 3 hours of pushing my body as hard as it could go, and I felt so exhausted and slap happy. I was in so much pain...but did I just have...fun? My mind is made up; racing is badass. It pushes you to your limits and forces you to see what your body/mind are truly capable of. Next time, some legit training could be nice.
For people looking to battle the winter blues, the Winter Challenge is an incredibly cool event! I'd highly recommend making the trip out to SC to compete with a bunch of fun, relaxed people.
PS. I got my belt buckle. 3rd place! I'll be back for 1st next year. ;)
Stuff that got me through race day:
Feetures Elite Ultra Light No Show Tab Sock
 Tailwind Nutrition Caffeinated Endurance Fuel
I have to give a special shoutout to Hyland's Leg Cramps. After the running bit, which had totally destroyed my legs, I got in my kayak and felt the initial cramp twitch in my calf. I popped some Leg Cramps pills and not only did the cramp immediately go away, my arms survived the 6-mile padding component without cramping as well. Miracle product.
 
Please reload